Pastor David Grant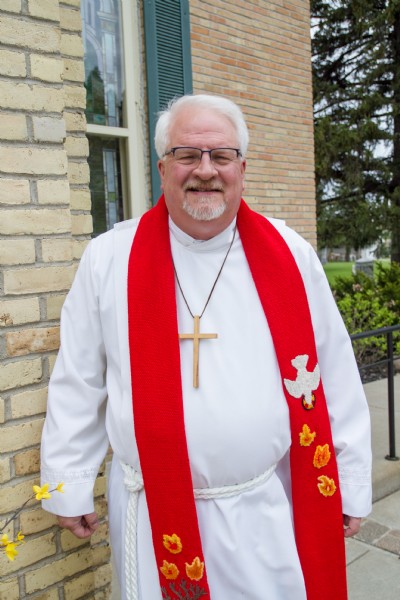 I was born in a Swedish Hospital in Minneapolis, Minnesota and grew up across the street from Augsburg College and then in South Minneapolis. When I was eight years old, my father graduated from Luther Seminary and accepted a call to be a missionary to the country of Brazil. So I grew up in Brazil, learned to love the people and culture and attended mission boarding school. As a result, I am what sociologists call a "Third Culture Kid." I am bilingual, speaking fluent conversational Portuguese and understand some Spanish, Italian, etc.
I graduated from a private American school in Brazil in 1971. My higher education was at Augsburg College and Luther Seminary from which I graduated in 1980. While at college I met Deb, a lovely young woman who has been my lifetime partner. As the song sings, "Grow old along with me, the best is yet to be." We have been growing old together since 1975, and are still holding hands.
I have served congregations in North Dakota, Minnesota and Iowa. Each one has been a joy. Whenever the Lord has called me to serve someplace else, we have had to leave many friends behind.
We are raising two grandsons and two dogs in our permanent home in Bloomington, Minnesota. We have four adult children, two biological and two adopted. We are an interracial adoption family. Two of our children and two more grandchildren live in the greater Twin Cities area. All four of my brothers and their families live within 20 minutes of our house so we are richly blessed to be so close to family again.
The priorities of my life have always been God, family and sports, in that order – unless Brazil's national soccer team is playing in the World Cup. I love all sports and am guilty of reading the sports page first every morning, but my real passion is futebol or soccer.
Outside interests are fishing, nature, gardening, genealogy, and reading, right now anything by Minnesota author William Kent Krueger.
I enjoy people, love hearing their stories, and enjoy ministry. I am really enjoying serving as interim pastor at East Union Lutheran Church here in Carver! I am truly blessed.
Pastor's office hours are Monday through Thursday from 9:30 a.m. to 12:30 p.m.